Resources
Pasefika Proud develops and provides downloadable resources relating to family violence, including frameworks, research and infographics.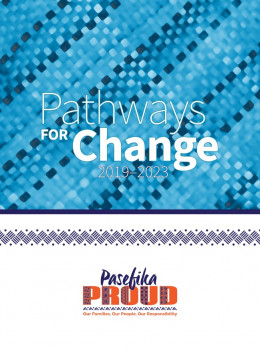 Pasefika Proud Pathways for Change 2019-2023
Pacific families and communities are safe, resilient and enjoy wellbeing
Pasefika Proud would like to acknowledge all of those who contributed to this Pathways for Change framework and to our Pasefika Proud journey. In particular, we would like to thank those who participated in the leadership fono in 2016 and the many focus groups around the country in 2018, and those Pacific community and government advisors who have provided substantive feedback and support. This input has been instrumental in shaping the direction and priorities articulated in our Pasifika Proud Pathways For Change framework.
Download (pdf, 1.8 MB)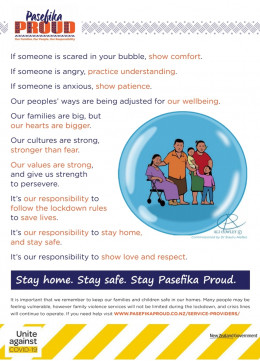 Stay Home, Stay Safe
The Government announced New Zealand will move out of Alert Level 4 lockdown at 11:59pm Monday 27 April and into Alert Level 3 starting Tuesday 28 April. We are in Alert Level 4 until then and will hold at Alert Level 3 for two weeks before Cabinet reviews how we're tracking and makes further decisions on 11 May.
Download this resource for a reminder of how important it is that we continue to keep our families, children safe in our homes.
Some Pacific families may be feeling vulnerable, remember that family violence support services are available during the COVID 19 Level 4 Alert lockdown and beyond.
For emergencies please Dial 111.
Click here for resources and links to available service providers.
Image credit: Ali Cowley as commissioned by Dr Siautu Alefaio.
Download (pdf, 302 KB)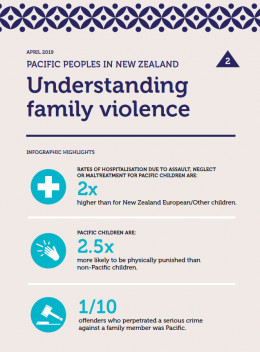 Understanding Family Violence
A snapshot of to understanding family violence in Pacific Peoples in New Zealand, including some protective and risk factors to consider when addressing/thinking about family violence.
Download (pdf, 185 KB)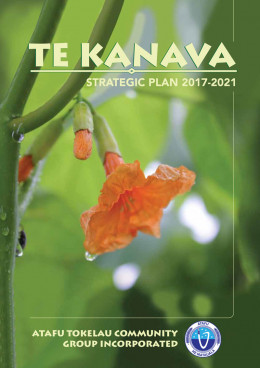 Te Kanava Strategic Plan 2017 - 2021
Pasefika Proud met with Tokelau leaders from the atoll of Atafu in 2017 to discuss how strategic planning as a ethnic specific group could assist their work around family violence prevention and achieving wellbeing.
As a result of the Atafu community were able to come up with their Atafu Strategic Plan 2017-2021.
The strategic plan has been gifted the name of Te Kanava which is a native tree (Cordia Subcordata) that flourishes in the forest of Tagaleleva, Atafu.
Download (pdf, 2.9 MB)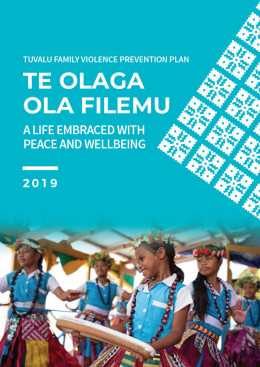 Te Olaga Ola Filemu - Tuvalu Family Violence Prevention Plan
This Tuvalu Family Violence Prevention Plan sets out the Tuvalu Community's strategic apprach to addressing violence within Tuvaluan families, and outlines a series of actions that create an environment where families are living free from violence.
The plan integrates Tavalu's unique culture and valies in framing approaches to prevent occurence and reocurrence of violence in Tuvalu families and communities across New Zealand, with the emphasis beingmore on prevention than intervention strategies.
Download (pdf, 4.2 MB)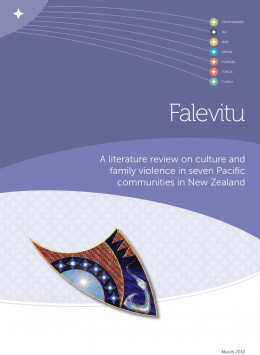 Falevitu
A literature review on culture and family violence in seven Pacific communities in New Zealand. This literature review is one of eight key documents that informed the development of Nga Vaka o Kāiga Tapu: A Pacific Conceptual Framework to address family violence in New Zealand. This review forms part of a wider project on family violence for the Ministry of Social Development (MSD). It also sets a research agenda for the Pacific Advisory Group (PAG).
Download (pdf, 1.5 MB)