Niue Beginnings
As chairperson of the Vagahau Niue Trust based at Favona School in Mangere, South Auckland, Mele Nemaia has been a leader in promoting and preserving her Niue language in New Zealand for decades. Having been awarded an MNZM - New Zealand Order of Merit, she now yearns to return home to Niue as retirement approaches. It's with the satisfaction of her achievements in Niue culture and education that Mele feels blessed. She knows that strenuous fundraising efforts can send New Zealand-based Niuean school students to embark on a once in a lifetime journey to the rock of Polynesia they're descended from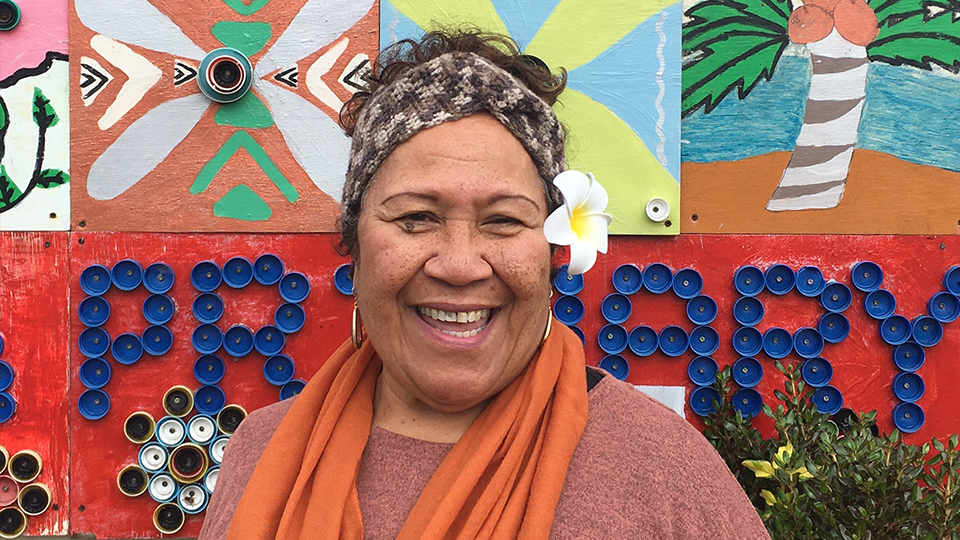 The school holidays are always a good time for teachers. For Mele Nemaia, it's particularly so with her husband Nema Eliki Nemaia, now living permanently at their family property in the village of Lakepa. But due to Covid-19, the best laid plans for Mele to return home have largely come unstuck throughout 2020. 
"I jumped on a plane to Niue for a holiday at the end of last year during the school holidays, but when Covid struck and then school started at the beginning of the year, I knew I couldn't go back there because the 14-day quarantine restrictions were too tight," she recalls. 
"I came back to New Zealand towards the end of January for the beginning of Term 1. That was the last time I was home as I missed out on going back to Niue during the April, July and September holidays. It made sense that Nema stay in Niue and look after our property and I return to New Zealand and school at Favona Primary (in Mangere), where I'm based.
"Nema hated the prospect of going into a 14-day lockdown, especially when there's so much space at the home in Niue and so much to do, like looking after the plantations, collecting coconuts to feed the pigs, growing taro and going to the beach to fish in the sea. In Niue, you can survive without money by living off the land. In a city like Auckland, if you haven't got money, your prospects are severely limited."
While there are approximately 1620 Niueans living on the island, more than 24,000 live in New Zealand. Many of them have never stepped foot on their ancestral homeland.  
Mele's ability to speak the Niuean language was pivotal when she came to New Zealand. She was also impressed by the Mamatua, their Niue elders, who provided guidance in helping newcomers settling in New Zealand.     
"We started groups like the Niue Sports Federation which I joined and became secretary. I felt blessed to be part of the group, but more than sport, my interest in our Niuean culture and language was what really attracted me."
Having originally settled in Onehunga Mele, moved to West Auckland after getting married, but soon realised South Auckland had the greater Pacific population numbers and the community enthusiasm to thrive. 
"Living out west (where she began teaching in 1982 at Avondale Primary) I felt somewhat out on a limb, which is why I came to the South. The numbers attending were big enough and growing to create organisations and events," she recalls.
"There's a genuine sense of community, with a vision by our elders to help our youth and new migrants from Niue into jobs and homes, learning to help fill forms for compliance purposes and retraining and reskilling them in what is a constantly changing environment."         
She fought hard to establish Niuean language nests, which led to contracts with the Ministry of Education and the establishment of ATPL – Achievements Through Pasifika Languages. 
"The ATPL is a different project, in which I was one of the members on the panel chosen to write the guidelines. While it was originally an MOE (Ministry of Education) initiative, we at Favona applied so we can run it at our school in Mangere," she says. 
"It was a privilege to be shoulder-tapped to help write the ATPL guidelines for one of the Niue contracts, which included Te Papa Primary and Manurewa West School," she adds.
Te Papa Primary & Manurewa West schools are the piloting schools with the ATPL projects, a Tongan ATPL at Te Papa and Samoan ATPL In Manurewa. They are not Niue ATPL. 
"It has been 10 to 11 years working on after-school programmes. It's a lot of work, but it creates a lot of pride and joy when I listen to the students speaking so fluently in their Niuean mother tongue."
Among her lengthy list of achievements over the years include three visits for her Auckland-based school students to stay in Niue and live among the locals.          
"It was for many of the students the first time they'd ever been to Niue. It required a lot of organising and fundraising, enabling us to bring 72 school children and their parents to the island for their first time," says Mele. 
"We hired two buses, hired a large tent and pitched it at one of our brother's places which we used as our base. We had a concert with Niue Primary School, cooked an umu while our kids learned to climb coconut trees and husk the coconuts. Those moments will be with me forever."   
What astounded Mele throughout their stay was the speed and proficiency her young Auckland students had in speaking the language, which she attributes to the local environment. She knows it's imperative the language is continually maintained and growing.
"When we arrived back in New Zealand, the parents who didn't go couldn't believe it. The kids sounded like they were all born and raised in Niue," adds Mele. 
"The local people of Niue were also astounded with our Niue Favona students, with their singing and performances. We're so lucky to have the staff and support programmes at the school which foster such initiatives. And the level of performance among the students continues to rise."  
Identity, culture and language remain cornerstones to the celebration of the Pacific Language Weeks. For Mele, respecting all Pacific languages are key to their continual growth.
"Sometimes that competitiveness can get heated, which has led to some schools pulling out due to fighting," she says. 
"We've banned people from events and won't tolerate any sort of violence. Our culture is about having respect and not mocking others, which is why initiatives like Pasefika Proud continue to be needed."
"But, by far, most of the time when we perform, we do so as best we can in respect for our elders.".
THE QUEEN'S 90TH BIRTHDAY HONOURS LIST 2016 – ORDER OF MERIT

NEMAIA, Mrs Mele Fakatali (Mary) | For services to the Niuean community
Mrs Mary Nemaia is a passionate representative of the Niuean community and its language.
Mrs Nemaia was one of the developers of the Niuean language resource 'Haia!', implemented the Achieving Through Pasifika Language programme at two schools in Auckland across nine years, and taught after-school Niuean language classes for more than six years. She has also served as the Chair of Vagahau Niue Trust for five years, which is an organisation that works to encourage the revitalisation of the Niuean language. She is a leader and an active representative of her community. She is a member of the Ministry of Education's Pacific Advisory Group, the New Zealand branch of the International Pacific Women's Information Network, and the Pacific Advisory Group for the Auckland Museum. Mrs Nemaia is also a member of PacificWin which promotes gender equality in the Pacific, and was a leading facilitator of the 2015 PacificWin Women's Indigenous Network International Conference.
Pasefika Proud Pathways for Change 2019-2023 Pacific families and communities are safe, resilient and enjoy wellbeing.
Click here for resources and links to available service providers.
(external link)(external link)(external link)(external link)(external link)(external link)
Pasefika Proud is a social change movement – 'by Pacific for Pacific' – to boost wellbeing for Pacific families and transform attitudes, behaviours and norms that enable violence. Our name and strapline embody our strengths-based, community-led approach:
Pasefika Proud: Our Families, Our People, Our Responsibility